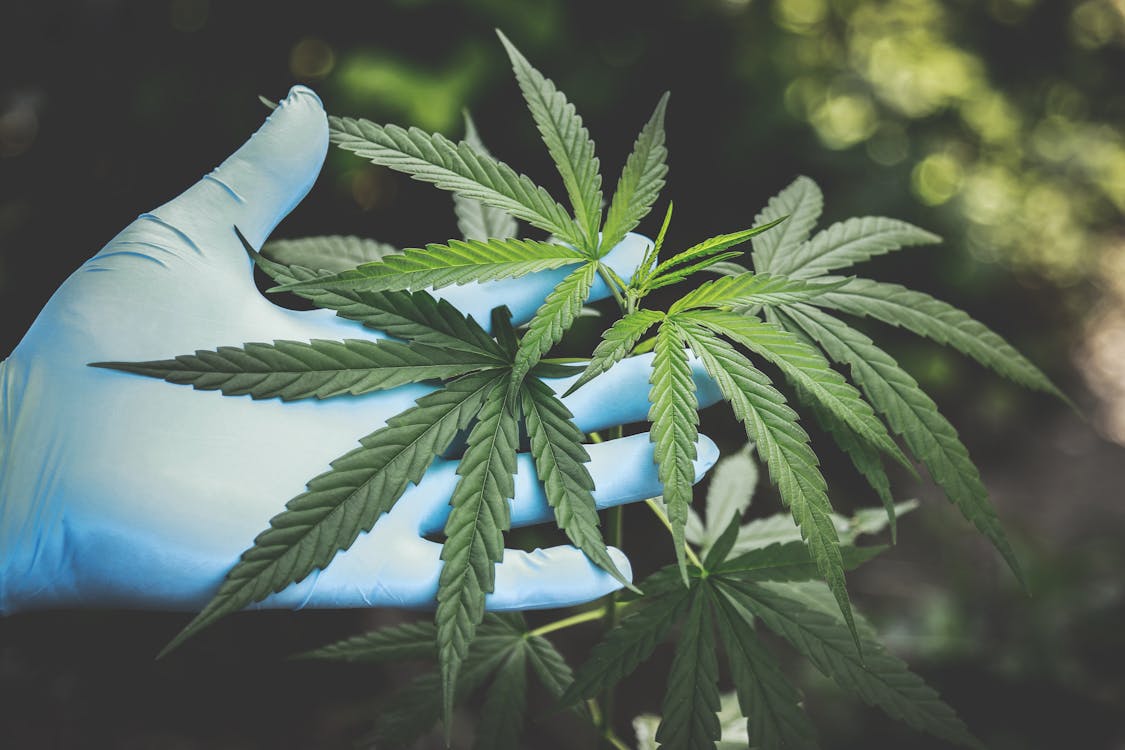 Image source: https://www.pexels.com/photo/person-holding-green-canabis-2178565/ 
Essential oils are a crucial part of the skin routine if you want to stay in shape. From coconut oil to rosemary, there are many products shown to nourish the skin. Today, the CBD skincare industry is a fast-rising industry as people look towards the natural herb. The oil is marketed in skin products to deal with acne and wrinkles, among other skin problems.
As the CBD industry grows, more people are incorporating it into skincare products and cosmetics. The rich-nutrient profile of CBD oil makes it a significant consideration for skincare regimens. CBD oil doesn't have mind-altering properties and will not get you high when used in skincare. 
There are different ways of using CBD oil for skin nutrition. According to Winston, who runs a CBD product review platform, the best way to try CBD is in the form of ethanol-extracted full-spectrum tincture. The produce will stimulate healing in the damaged areas. The alcohol-based extracts have the potential to ease skin disease symptoms such as acne.
Infuse CBD oil into sea-salt soaks
Image source: https://www.pexels.com/photo/person-holding-black-and-green-plastic-tube-bottles-3616980/
Infuse the CBD oil into sea-salt soaks and use them for baths to treat irritated skin. Adding CBD oil to sea salts can extend the benefits to your skin in numerous ways. It can treat skin conditions such as eczema, as well as helping with dry and itchy skin. Add the oil to a cup of table salt before putting it into your bath to treat skin irritation and inflammation.
Acne is an inflammatory condition that is treated with an anti-inflammatory. This is where CBD comes in. When applied to the skin, CBD oil can reduce inflammation and help soothe the skin. Its anti-inflammatory properties are suitable for acne-prone skin, while its calming benefits help the skin look better.
Blend the oil into soaps and shower with it. CBD oil can blend well with soaps, lotions, creams, and even salves. This is quickly done by adding the oil to melted soap, mixing well, and pouring it into molds. The substance will be ready to use as soon as it has cooled and hardened. Alternatively, use it as massage oil into sore joints.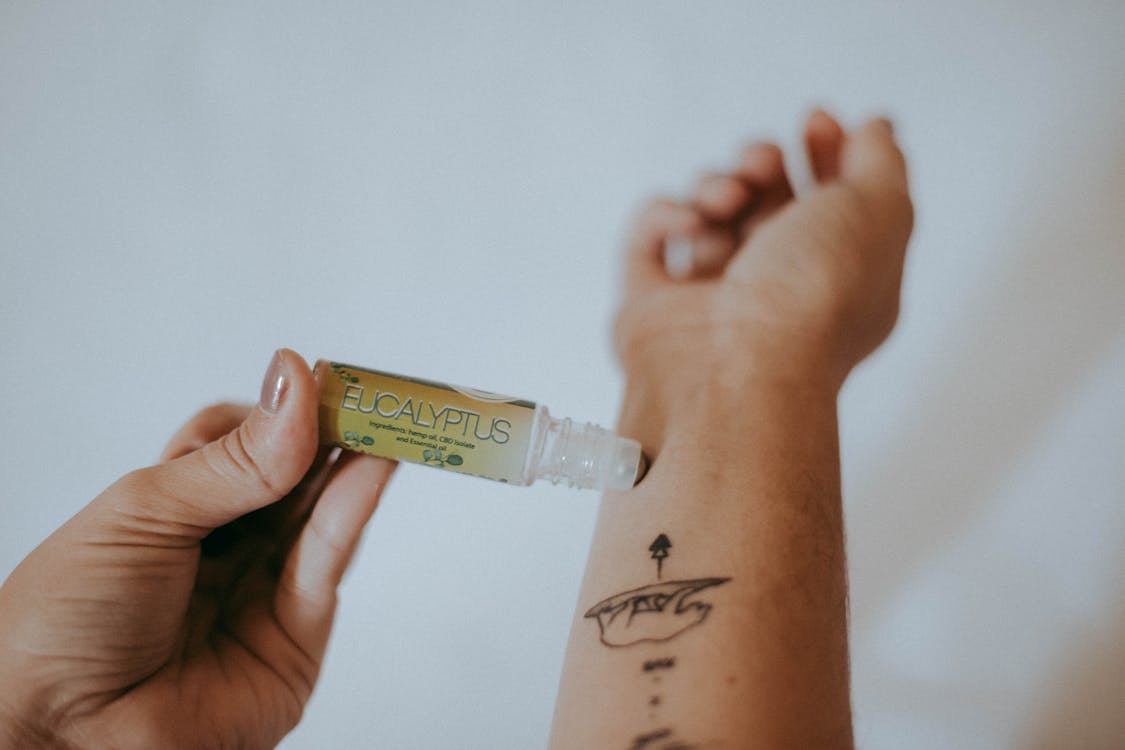 Image source: https://www.pexels.com/photo/person-holding-eucalyptus-labeled-soft-tube-3616983/ 
Individuals with sensitive skin can comfortably use this CBD oil blended in soaps. The product has significant soothing properties that can help minimize issues of skin sensitivity. In other words, if you suffer from skin reactivity or redness, the CBD oil has skin-calming and skin-normalizing effects of reducing these effects.
Add CBD oil into your diet.
Adding pure oil into your diets, such as fruit smoothies or stews, is another way of benefiting the skin. Place a few drops of CBD oil tincture into coffee or tea and use a spoon to mix thoroughly. The natural oil is not water-soluble, so adding fat can improve its absorption when added to foods and beverages. CBD oil can be used to treat eczema due to its anti-inflammatory properties. The advantage of CBD oil is that it doesn't affect the sebaceous glands. When taken with smoothies, it interacts with skin glands that regulate oil production.
Image source: https://www.pexels.com/photo/woman-in-blue-denim-jacket-holding-dropper-3807350/ 
Eczema is one of the frustrating conditions to have due to frequent itchiness. It causes the skin to itch, crack or turn red in uncomfortable ways. The stress caused by this condition can lead to other health symptoms such as erectile dysfunction. With millions of people suffering from the disease, CBD oil offers welcome relief.
You can write for us beauty related content.
Adding CBD oil to your diet can treat eczema. Once ingested, the product interacts with the endocannabinoid system that directly relates to allergic inflammation-causing eczema. Its anti-inflammatory properties can treat the symptoms of eczema and prevent new ones from emerging. Taking CBD edibles can help treat the skin condition by relieving dryness and reducing inflammation.
Use CBD oil sublingually under the tongue.
Try microdosing pure CBD oil under your tongue daily for the best beauty benefits. The CBD will stay in your system and nourish the skin from within the tissues. Allow the oil to sit under the tongue for 30 seconds, then distribute the remaining oil to your inner cheeks. It will hydrate the skin and treat certain inflammatory skin disorders.
CBD oil can be applied as a natural herb for glowing skin. When taken into the body, the oil can reduce excess sebum production due to its balancing effects on skin oil flow. Cannabis is rich in omega fatty acids that work on broken skin to nourish and repair it. CBD oil soothes and inflames the skin and reduces any skin infections. It is rich in omega fatty acids that encourage new cell generation for glowing skin.
Individuals with acne skin can benefit from using CBD oil for its ability to modulate skin oil production. It will control excess oil production on the skin, often clogging pores and scattering skin cells on the surface.
Combine Moisturizers with CBD oil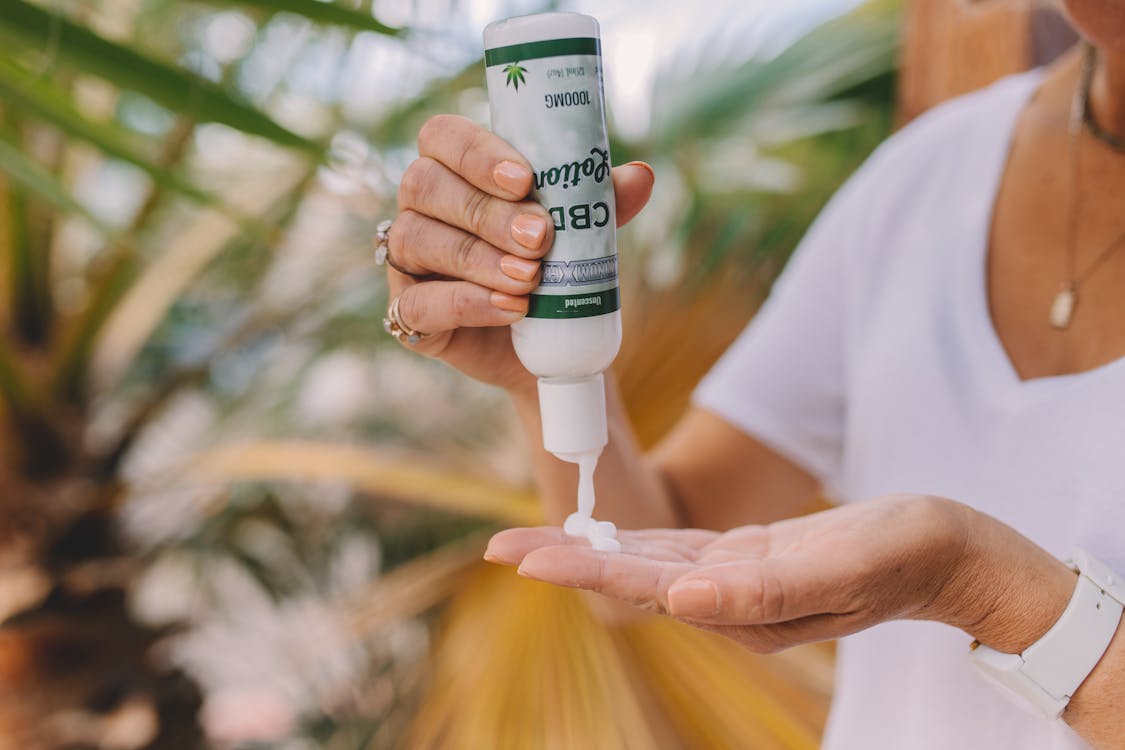 Image source: https://www.pexels.com/photo/person-holding-white-plastic-bottle-3616996/ 
Combine the CBD oil into moisturizers or repair creams and apply it to the skin. Moisturizers are a great place to start when thinking of topical skin treatment. When prepared in moisturizers, the oil will bring damaged skin to life. The anti-inflammatory properties of CBD oil stimulate healing in dry skin and remove wrinkles on the skin.
The antioxidant properties in CBD oil help reduce the visible signs of aging. The anti-aging creams can reduce wrinkles and skin dullness to reduce the look of inflammation. When used as a face cream, the oil gives the skin a natural glow without clogging its pores.
Cannabis contains anti-inflammatory properties that treat the skin. Inflammation is a significant cause of skin damage, leading to acne and other skin conditions. Therefore, people use CBD oil to calm the inflammation while keeping the skin moisturized and nourished.
Bottom line
CBD oil is used to nourish the skin and give it a natural glow. Provided the oil is extracted within proper parameters, it will benefit the skin in numerous ways. More people are using CBD oil for the skin because it can fight inflammation and breakouts. With synthetic products doing more harm than good, CBD oil is the best natural remedy to use. It helps treat various skin conditions such as acne and eczema while managing dry skin and aging. The essential oils offer immense benefits for your skincare routine to moisturize the skin and balance the oil production.